WELCOME

Welcome to the parish website of The Church of The Most Precious Blood' Sidmouth within the Roman Catholic Diocese of Plymouth. Our parish priest is Canon Paul Cummins and he lives in the presbytery.
Everyone is welcome here, no matter who you are or where you are on your faith journey. If you have lost touch with us for a while we would be delighted to see you again and listen to your story. Meanwhile, I pray that during this week we will be determined missionaries in bringing the light of Christ and the joy of the Gospel to all those we meet. And I extend a very warm welcome to all visitors to Sidmouth during this holiday season.

LATEST NEWS
<!
Sidmouth
We welcome all visitors during the holiday season and hope that you have a lovely stay in Sidmouth.

Pope Francis' intentions for August
Sports:
that sports may be an opportunity for friendly encounters between peoples and may contribute to peace inthe world.
Living the Gospel:
that Christians may live the Gospel, giving witness to faith, honesty, and love of neighbour.

PPC meeting - July
The notes of the most recent PPC meeting are available
here
.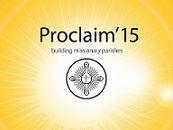 Proclaim 15 material
Key addresses from the National Conference for Evangelisation are available here:
Pope Francis' message
Cardinal Nichols' address
Archbishop Stack's homily
Archbishop Longley's address
Archbishop of Canterbury's message
Worksop recordings are available to borrow from the parish office. Please continue to keep the initiative in your prayers.

Tweet tweet...
We now have a twitter account @SidmthRCParish - please follow us so we're not lonely!